Thinking of adding some UV lights to your HVAC system? They can sterilize the air stream, but there is more to consider when choosing a UV lamp.
Efficiency is key when it comes to HVAC, but many have turned their focus towards healthier spaces. Building owners and HVAC professionals are looking for new ways to bring clean air to occupants. HVAC systems can mitigate the spread of illnesses with the right design and some extra equipment, such as HEPA filters. Many in the HVAC industry are turning to UV lamps to clean air inside the ductwork.
The concept of sanitizing with light is older than you think. In 1903, scientist Niels Finsen was awarded a Nobel Prize in Medicine for his use of UV light radiation to treat lupus vulgaris, a form of skin tuberculosis. Finsen's work focused on the benefits of sunlight, specifically for treating illness. Through experiments with light treatment, he learned that the most refractive rays of light (the UV rays) could be used to treat certain skin diseases like lupus vulgaris. He learned that these "chemical rays" had a bactericidal effect on the skin. This discovery led to further research into UV light as a sterilizer. Over time, scientists discovered that short wave ultraviolet radiation (UV-C radiation) was effective at killing bacteria, mold, and even viruses.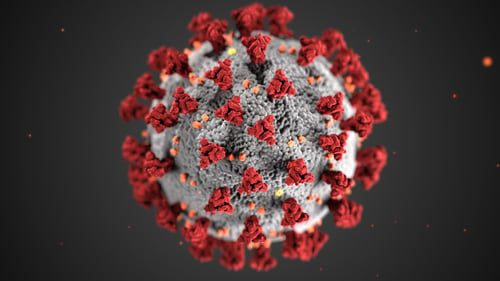 Niels Finsen found that UV light can destroy bacteria. Years later, we learned that UV-C radiation can destroy viruses, too.
UV-C radiation is proven to kill bacteria and viruses, but studies are still in progress to determine whether it can neutralize SARS-CoV-2, better known as COVID-19. Currently, there are promising signs on its effectiveness against a similar viral strand, SARS-Coronavirus, which is why many are turning to UV light for sterilizing equipment. As of April 2020, the National Institute for Occupational Safety and Health (NIOSH) approved UV-C light as one of several methods for sterilizing filtered respirators against COVID-19.
The effectiveness of UV-C lamps depends on the amount of exposure to the UV light, the UV-C wavelengths emitted by the lamp, and the duration of exposure. In HVAC, the UV lamp will be mounted inside the ductwork so that the air stream is constantly exposed to UV-C radiation. The UV light assemblies will cause pressure drop, although there may be options to minimize the assembly's profile. For more on air performance, read Air Performance and Keeping the Flow.
UV-C radiation occurs within the 200 to 280 nanometer range of the ultraviolet spectral band. Different UV lamps will exert different wavelengths of radiation. The most common type of lamp will emit at 254 nanometers, though some lamps will emit 222 nanometers. There are other factors to consider when adding UV lights to your HVAC system. Direct exposure to UV-C radiation may cause burns to the skin or eyes. You can safely use UV lights in your ductwork, but always make sure to disable UV lamps when servicing the duct.
UV-C radiation can also degrade certain materials with prolonged exposure, including plastics and polymers used in control dampers. Damper manufacturers may ask you to install UV lights away from their dampers, to prevent unnecessary wear on their moving parts. Determine where the UV lights can go and what kind of lamp you need.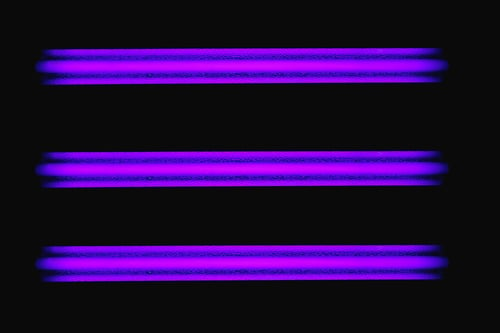 UV lamps can be installed in duct work to clean air as it passes through, but not all lamps are the same.
There are four types of UV lamps: low-pressure mercury lamps, excimer lamps (also known as far-UV-C lamps), pulsed xenon lamps, and light-emitting diode (LED) lights. Each type of light will emit a different wavelengths of UV light, which may determine the light's effectiveness. Low-pressure mercury lamps are the most common type of UV light, but they contain small amounts of mercury. Be careful when cleaning up a broken mercury lamp to minimize exposure to the toxic metal. You will need to establish procedures for disposing of old lamps and installing new ones.
UV LED lights contain no mercury, but their small size may make them less effective for sanitizing. These lights can provide the necessary amount of exposure for sanitizing airflow, but with a smaller exposure area. Pulsed xenon lamps emit short pulses of light, which are mainly filtered to UV-C radiation for sterilization purposes. These lamps are also mercury-free and are commonly used to sanitize empty hospital rooms.
UV lights can disinfect air as it passes through your HVAC system, but you need to understand the risks with installing and handling them. More people expect to live and work in healthy spaces. Clean air is a good start.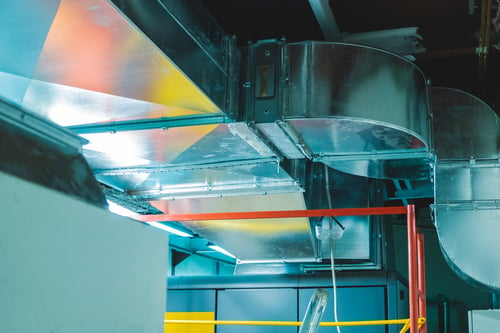 Are you looking to add UV lamps to your ductwork? Have you seen UV lamps in action in your line of work? Share your thoughts in the comments section below. MCDLG wants to hear from you!
MCDLG is Here to Help!
MCDLG is here to help! We can help you meet your HVAC requirements, from start to finish.
New to the HVAC industry? Or maybe you need a refresher. Browse the MCDLG Newsstand for explanations on industry terms and stats. Learn the basics of louvers and dampers, and how to choose the right equipment for your next project.
MCDLG also offers continuing education courses through our Campus Portal on AEC Daily! Learn at your own pace through our online courses or schedule a webinar for any course and take a more traditional approach. Learn important HVAC principles and earn continuing education credits from a variety of institutions, including ASHRAE and AIA.

Maybe you have a question regarding a current or future project? MCDLG can help! Visit our contact page and leave us a message. We will gladly help you find what you need, whether it's information or custom-built louvers and dampers. Let us put our 50+ years in the industry to work for you.
We are the Mestek Commercial Damper and Louver Group, a collective of top-tier HVAC brands. You don't have to go it alone. MCDLG is here to help!
Sources for this article: