June 22nd is National HVAC Tech Day. In this article, we discuss why HVAC technicians are important to everyone. From your home to your office, HVAC techs work hard to keep us cool.
Cheer for HVAC technicians today because June 22nd is National HVAC Tech Day! Show your appreciation for the hardworking professionals that service and maintain HVAC equipment, from small-scale home units to commercial-grade systems. These people work hard to keep us comfortable.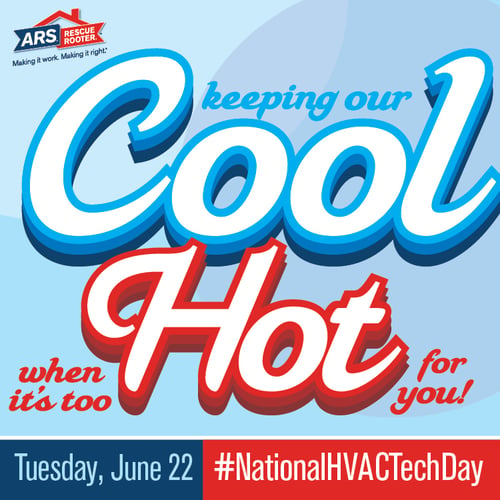 When your HVAC system stops working, HVAC technicians step in to diagnose and fix the problem. That means working on complex equipment in confined spaces. For homes, the HVAC system is often located in the attic or in a tiny crawl space. Temperatures can reach over 150°F in these spaces. Those are some tough working conditions. In offices, technicians are working on the equipment outside, typically on the roof of the building, to get the job done. If they work inside the office, they are likely working inside duct work to perform maintenance on control dampers or adjusting balance dampers to the right blade angle. Their job is not over when your HVAC unit is running again. They're off to the next job to help more people solve their HVAC issues.
Depending on the state they work from, an HVAC tech will need to work between 6,000 and 9,000 hours on the job to qualify to become a licensed HVAC technician. In that time, they learn to work with multiple HVAC systems across a long list of manufacturers. They apply what they learn every day to diagnose issues and provide the best possible fix for the system. A licensed HVAC technician is an expert in their field. When you call on a licensed technician, you can rest assured that they can find what's wrong and fix it for you.
Regular HVAC maintenance can save money for homeowners and building managers. Technicians can diagnose inefficiencies in your system and tune up equipment to run at peak performance. Even something as simple as maintaining louvers and control dampers can go a long way. A well-tuned HVAC system uses less power to heat and cool your rooms. This not only saves money, but also conserves energy over time. Green initiatives are on the rise. You need every part of your building to be as efficient as possible. Whether at home or in the office, maintaining your HVAC system keeps you cool and saves you money in the long run. Those saving would not be possible without the hard work of our HVAC technicians.
Have you been saved from summer heat by an HVAC technician? Share your story in the comments below!