The Air Movement and Control Association (AMCA) provides test standards for louvers. This article covers the test involved for water penetration.
Louvers are designed to let air in while keeping other things out, like rain or snow. When picking a louver, you need to decide which of these two is more important. AMCA Ratings can help you determine which louvers are best at a given task.
First, let's talk about the organization AMCA.
AMCA - A Quick Review
The Air Movement and Control Association (AMCA) establishes reliable standards and test protocols for HVAC equipment. When an air-flow product has been tested under these protocols, it receives an AMCA Rating Seal. Industry professional look for these seals when selecting air-control products.
A louver receives an AMCA seal when it completes a set of AMCA test protocols in an AMCA-approved test lab. These tests aren't about passing or failing. AMCA tests are about making sure the results are reliable and that the data presented for each product is accurate.
We cover AMCA-rated louvers in greater detail in our online course "An Introduction to Louver Selection". Visit the MCDLG Campus portal for more information.

For this article, we'll go over the test required for a Water Penetration seal, the data received from the test, and how it is recorded on the louver's submittal.
---
---
The Test - Simulating Still Air Rainfall
AMCA-approved labs have a special test assembly for water penetration. This assembly consists of duct work with an exhaust fan attached to one end of the duct. On the other side, there is a wall with an opening for a sample louver. Sample louvers are always square, measuring 48 inches wide by 48 inches high.
The test assembly is designed to simulate an intake duct on the side of a building. The exhaust fan will draw outside air through the louver and into the duct work the same way it does in a real intake duct.
The front of the wall is equipped with a series of sprinklers above the louver opening. During the test, these sprinklers create water droplets that fall in front of the louver. These free-falling droplets are pulled into the louver as the exhaust fan draws air into the duct work. This simulates rainfall in still air conditions.
The water penetration test runs for 15 minutes. In that time, testers collect data at four key points of air velocity. The test is finished once they have collected these data points and when the air in the duct reaches the maximum allowed velocity of 1250 FPM, or if more than 2.5 ounces of water enter the duct.
The Results - The Data and What It Means
When each test is complete, two sets of data are collected: the amount of water that entered the duct and the free area velocity moving through the louver. Testers also record the air velocity for when an initial amount of water first entered the louver, known as the Beginning Point of Water Penetration. The free area velocity is the speed of the air passing through the louver's free area into the duct work, usually measured in feet per minute (FPM).
These results are plotted on a graph showing the increase in water penetration as the free area velocity increases. The beginning of this graph line, marked with an "X", is the louver's Beginning Point of Water Penetration.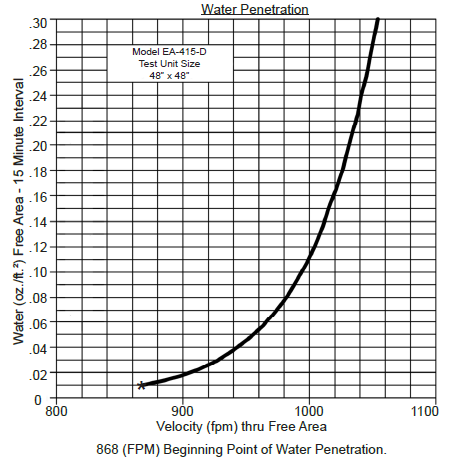 To determine how much water will pass through your louvers, determine the free area velocity limit of your duct work and then find that value on the graph. Trace the line up to where it meets the graph, then across to the amount of water that entered the louver. This will tell you how much water to expect at a given air speed.

In some cases, there is only a dot at the 1250 FPM mark instead of a line: this means that the beginning point of water penetration is more than 1250 FPM of free area velocity.
Finding a Balance - Taking Air In vs. Keeping Things Out
Finding the right louver for the task often means striking a balance. The goal of a louver is to let air in while keeping everything else out: rain water, foreign debris, birds, and other critters. A louver meant for ventilation won't be as effective at blocking water penetration. A drainable louver with a high beginning point of water penetration may also have a high pressure drop rate, meaning it will require more power to achieve the necessary air velocity.
You can often strike a balance between these two factors. However, there may be scenarios where keeping water out is more important than letting air in.
One More Thing - Wind Driven Rain!
The Water Penetration test only factors in rain scenarios with light to no wind conditions. It does not factor in heavy wind blowing rain into the louver.
For windy situations, AMCA has established a separate rating known as "Wind Driven Rain".
Read more about Wind Driven Rain here, on the MCDLG Newsstand.
Do you check your products for water penetration data? Is it important for your line of work? Share your thoughts in the comments section. We want to hear from you!
MCDLG & Continuing Education
MCDLG offers free self-paced courses online through AEC Daily.
Our louver course, An Introduction to Louvers, goes over all of the basic stats, terms, and principles involved in choosing louvers for any application.
This course provides continuing education credits for a variety of institutions, including AIA's LIUs. Learn the basics of louvers and earn credit, at your own pace. Visit the MCDLG course page on AECDaily.com today!
Do you have a question on something we haven't covered here? Or maybe you need help from industry experts? MCDLG can help. Contact us by clicking on the button below.