A frame on top of a frame? Subframes can provide easy access to areas behind your louvers. Learn more in this quick Condenser article.
Louvers are important fixtures in your building. You install them to protect interior spaces and ductwork from rainfall or other elements that could hinder your HVAC system. Louvers are typically mounted into an opening and fixed in place with various fasteners, depending on the opening substrate. Once they're installed, louvers stay in place until they need repairs or a full replacement.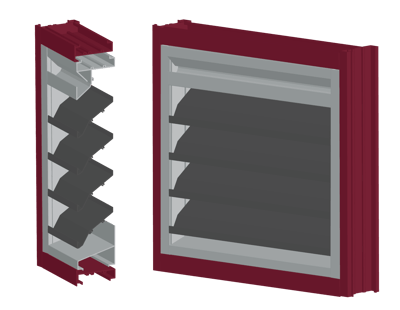 There may be situations where you might want your louver to be removeable. In certain applications, you may want easy access to a specific ventilation point, or you may want a louver to double as an entry way. For these applications, you will need a subframe.
A subframe is an auxiliary frame assembly installed in an opening. Think of it like a picture frame for a photograph. The full louver will be mounted and secured inside of the subframe, so that the frame of the louver sits in the subframe. Although it may seem superfluous, this accessory provides many options for the louver.
Subframes allow the installed louver to be removed and returned to the frame without having to fully uninstall the louver. In other words, technicians can simply pull the louver out of the subframe to get to the space behind it. This action makes it easy to service ductwork near the exterior of the building. It also makes it easier to service the louver. You can also add a hinge and latch to the subframe so that operators can open and close the louver like a door. This makes it even easier to service ducts.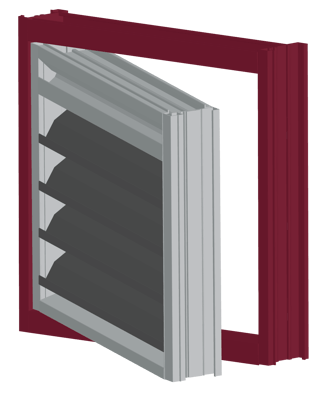 Subframes allow easy access to ductwork and interior spaces behind the louver, but they may not always work for what you need. For example, severe weather louvers should be mounted and secured directly into the opening. Review the requirements of your application and determine whether a subframe will work.
For more on louvers, read these Newsstand articles:
MCDLG & Continuing Education
Ready to learn more about louvers? Take our free online course today!
"Louvers for Style and Aesthetics" covers all the basic stats, terms, and principles involved in choosing louvers for any application. It also has several pointers for turning louvers into style enhancers.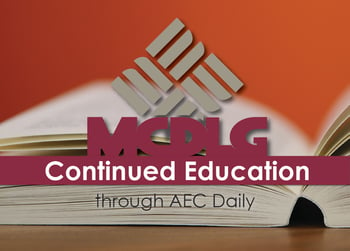 This course provides continuing education credits for a variety of institutions, including AIA's LIUs. Learn the basics of louvers and earn credit, at your own pace. Visit the MCDLG course page on AECDaily.com today!

Do you have a question on something we haven't covered here? Or do you need help from industry experts? MCDLG can help. Contact us by clicking on the button below.