In this article, we look at the EA-531-D series louvers. These combination stationary louvers are built for severe weather and hurricane scenarios.
Severe weather louvers are designed to prevent rainwater from infiltrating the interior. These louvers often come with specialized catches along the blade profile, drainable troughs along the blade face, and drain pans along the sill; all to maximize water rejection. When it comes to severe weather, protection is the most crucial factor.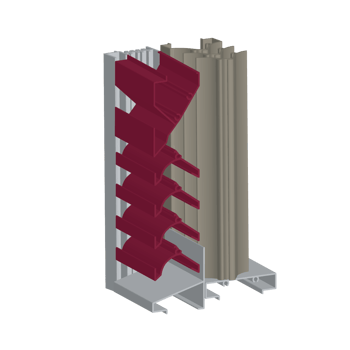 Combination stationary louvers utilize two sets of stationary blades to keep out wind driven rain and severe weather. These louvers provide excellent severe weather protection.
You need louvers that protect your ventilation points from heavy rain driven by storm-force winds. You need louvers that are rated for water penetration and wind driven rain. If you're building in a high velocity hurricane zone, then you will need hurricane-ready louvers rated for AMCA Standards 540 and 550.
The EA-531-D series is a combination stationary louver that provides top-notch protection from severe weather. This five-inch-deep louver is equipped with two sets of chevron blades: the face side blades are horizontal to maintain the traditional louver look, and the rear side blades are set vertically for an added layer of protection. Each blade has specialized catches that capture water as it passes over, or around, the blades. The EA-531-D series rejects rainwater without compromising airflow.
The face side blades also have drainable troughs to direct water from the blades, through the channels in the jambs, and down into the sill. The vertical rear-side blades will naturally drain captured water towards the sill. The standard drain pan keeps water from re-entering the ductwork.
The EA-531-D series is AMCA-rated for water penetration and wind driven rain. It is also listed for AMCA Standard 540 (windborne debris impact resistance) and AMCA Standard 550 (high velocity wind driven rain). Unlike other 540/550-rated louvers, the EA-531-D series passed both AMCA 540 and 550 testing without having a closed damper behind it. All this protection, in a louver no bigger than a typical severe weather louver.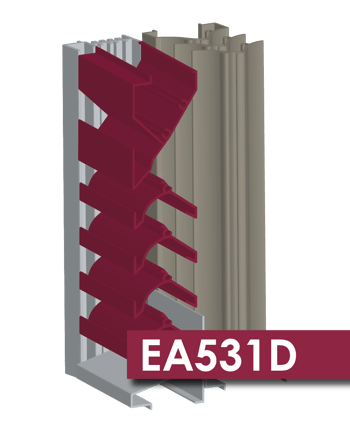 Here are a few details:
Listed for AMCA Standard 540, Wind Borne Debris Impact Resistance – Basic Protection Level D
Also listed for AMCA Standard 550, High Velocity Wind Driven Rain.
AMCA-rated for Wind Driven Rain with Class A ratings for both the 29 MPH and 50 MPH wind driven rain test scenarios. *
AMCA-rated for Water Penetration: beginning point of water penetration at 821 FPM.
* Class A rating at a core velocity of 4.5 m/s. Read our article on wind driven rain testing for the full scoop on how wind driven rain is tested and measured by AMCA approved laboratories.
Like every MCDLG louver, the EA-531-D series is available with long-lasting powder paint finishes and in a range of standard colors. We also offer color-matching, so that every louver matches your project. Even a severe weather louver should fit the style of your building. Protect your openings and interiors with a combination stationary louver from MCDLG.
Check out the EA-531-D series today. Search for the model numbers below on Product Pro. Find what you're looking for, faster!
Go to Product Pro for Arrow United Louvers
Search for the EA-531-D
Go to Product Pro for Air Balance Louvers
Search for the A531
Go to Product Pro for Airline Louvers
Search for the AS5D99CS
Learn more about severe weather louvers with these Newsstand articles:
MCDLG is Here to Help!
Looking for help with your next project? Or do you have a specific question about a current job? MCDLG can help! We can bring our 50+ years of experience to the table. We are here to help you.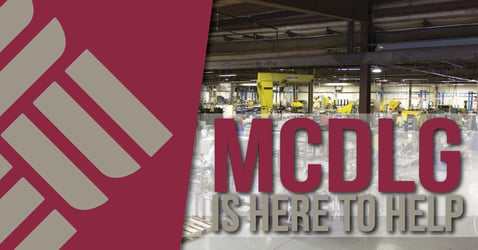 From continuing education to equipment considerations, all the way to providing top-quality finished products, and to post-sales support. We assist our customers every step of the way. Interested? Read our article to learn ways we can help you: MCDLG is Here to Help!
Need help right away? Contact MCDLG today. We are ready to help you.