In this Condenser, we take a closer look at the AS3D99VS. Learn how vertical chevron blades can protect from wind driven rain without compromising performance.
Wind driven rain louvers are built to protect ventilation openings and interiors from severe weather. They are designed to prevent the infiltration of rainfall into the HVAC system by capturing rain, carried by high winds, before it can pass through the louver. Wind driven rain louvers have specialized blade profiles with drainable catches, which capture excess moisture before it infiltrates the louver.
These features are effective at keeping rainwater out, but they will make it more difficult for air to pass through. Drainable catches will increase pressure drop across the louver, which negatively affects the louver's air performance. The system will need to work harder to draw the same amount of air into the system.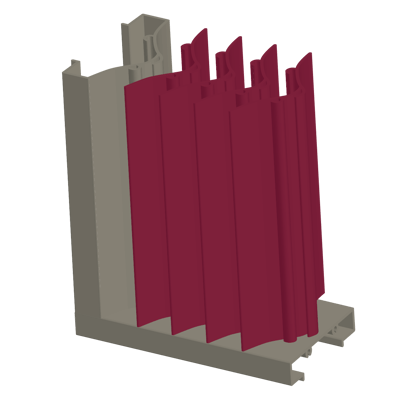 Chevron blades can be installed horizontally or vertically. In both cases, they allow air in and keep rain water out.
Chevron blades are commonly used for severe weather louvers. The chevron blade profile can capture rainfall as its passes over the curve of the blade, with minimal effect on air performance. Gravity helps the draining process when the blades are installed vertically. Captured rain water will naturally fall down the louver's sill. From there, it can safely drain out of the louver with the help of a drain pan. This design is very effective at keeping water out of the interior. And best of all, this design minimizes the blades' effect on the louver's air performance.
Balance performance and protection with a wind driven rain louver from Airline Louvers. The AS3D99VS is a three-inch deep louver built for severe weather. This louver is equipped with vertical chevron blades and a drain pan as a standard feature. The AS3D99VS is tested and rated to AMCA Standard 500-L, for air performance and wind driven rain, as well as AMCA Standard 550 for High Velocity Rain Resistance.
Read more about AMCA standards for severe weather louvers with our articles on wind driven rain testing and testing for high velocity rain resistance.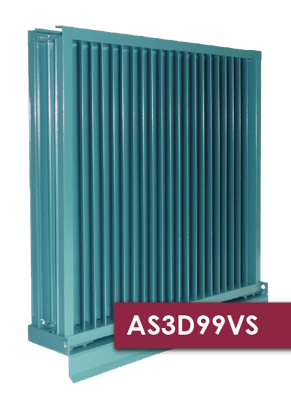 Here are a few bullet points for the AS3D99VS:
Vertical chevron blades with drainable catches
A drain pan comes standard for easy drainage
Smaller form factor than most wind driven rain louvers
Effectiveness Class A for both phases of the wind driven rain test
Tested and rated to AMCA Standard 550 for High Velocity Rain Resistance.
The AS3D99VS is available with long-lasting custom finishes, including Kynar 500 and Kynar XL. Choose from 30 standard colors and 5 shades for anodized finishes. Or use our color-matching option for the perfect shade. Match the louver to your project's aesthetic. At Airline Louvers, we work to make it easier to select the right louvers.
You can find the AS3D99VS on Airline's Product Pro, a search and filter tool from MCDLG. Go to Product Pro for Airline and search for the AS3D99VS.
For more on louvers, check out these Newsstand articles:
Don't compromise air performance for severe weather protection. Consider adding the AS3D99VS to your next project. Contact Airline Louvers online. We are ready to help!
MCDLG is Here to Help!
MCDLG is here to help! We can help you meet your HVAC requirements, from start to finish.
New to the HVAC industry? Or maybe you need a refresher. Browse the MCDLG Newsstand for explanations on industry terms and stats. Learn the basics of louvers and dampers, and how to choose the right equipment for your next project.
MCDLG also offers continuing education courses through our Campus Portal on AEC Daily! Learn at your own pace through our online courses or schedule a webinar for any course and take a more traditional approach. Learn important HVAC principles and earn continuing education credits from a variety of institutions, including ASHRAE and AIA.

Have a question regarding a current or future project? MCDLG can help! Visit our contact page and leave us a message. We will gladly help you find what you need, whether its information or custom-built louvers and dampers. Let us put our 50+ years in the industry to work for you.