Hurricane louvers must withstand strikes from windborne debris. AMCA 540 is the standard for large missile impact tests. Learn more on the MCDLG Newsstand.
Hurricane louvers are built for hurricane conditions. Each louver must protect interior spaces from severe weather conditions.
First, they must reject heavy rainfall driven by high winds. It is important to keep interiors dry, especially when those interiors lead to HVAC systems. Moisture, if left unchecked, can cause serious damage to ductwork and connected fans. While water rejection is important, hurricane louvers must withstand another aspect of severe weather. They must also be resilient against incoming debris.
The Dangers of Windborne Debris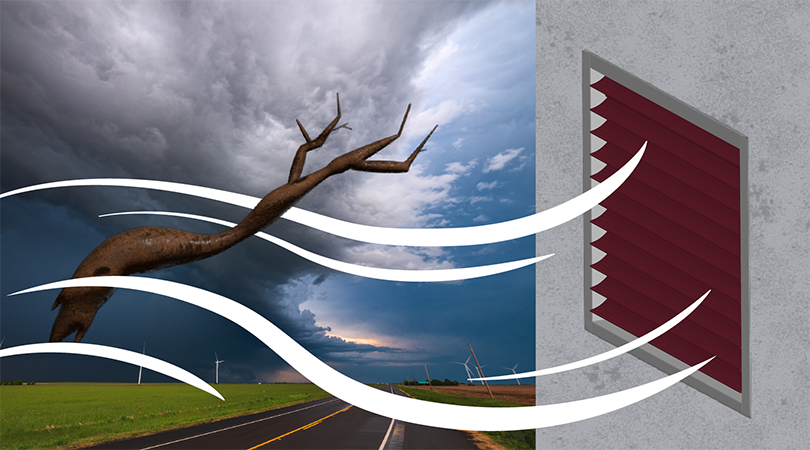 Windborne debris is an ever-present threat during a hurricane. Any form of debris can be quickly swept up by high winds and become a destructive missile. Windborne debris can cause serious damage to your building, but especially to intake and exhaust louvers. Louvers are often viewed as weak points in the building's envelope because of their design: several thin louver blades contained in a frame. A strike to a standard louver might cause it to cave in, leaving the opening vulnerable to further damage.
This is why many manufacturers use heavier gauge materials and welded construction to build their hurricane louvers. However, there's more to a hurricane louver than a sturdy build. Louvers must be rigorously tested before they are approved for use a hurricane louvers. One such testing standard, AMCA Standard 540, determines a louver's ability to withstand windborne debris impact.
AMCA Standard 540 - Missile Impact Testing
For AMCA 540, a test sample of the louver model is installed in a test assembly using the manufacturer's installation instructions. An air cannon is positioned in front of the face of the louver and loaded with a 2" x 4" wood beam. This beam acts as the missile for testing. The cannon assembly will be moved away from the test louver, at 1.5 times the length of the test missile. For example, the cannon will be 7.5 feet away from the louver for a test missile that is 5 feet long. This ensures that the missile will achieve the intended speed when it strikes the test louver. Test louvers are struck in four places:
At the top right corner, close to the area where the head and jamb connect.
At a point just below the middle of the louver, directly onto the louver's blades.
On the jamb or mullion, at a point to the right of the second strike point.
At the bottom left corner, close to the area where the sill and jamb connect.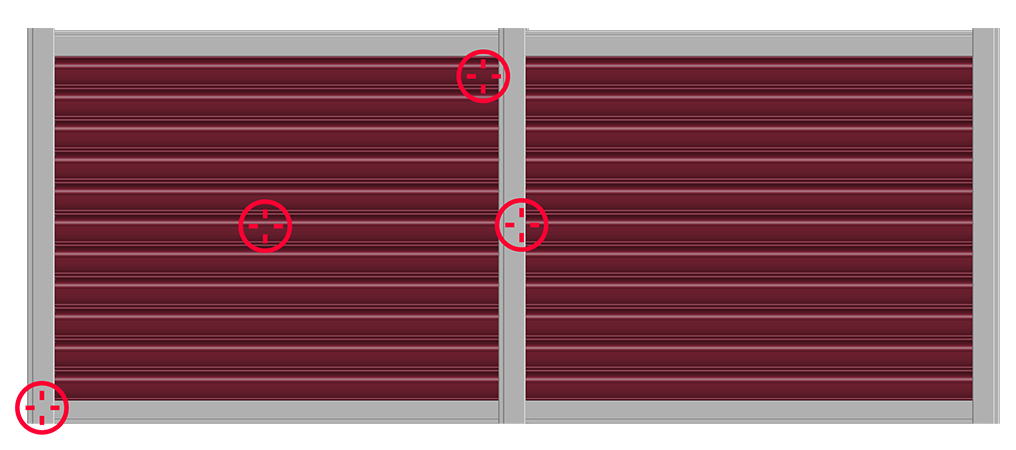 These strike points test the louver's structural integrity at key points. To pass the test, the louver must remain intact after the four test strikes. The louver's frame members must stay together, and all blades must stay attached to the jambs. For instance, the louver will fail if the head splits from one of the jambs. Blades can twist out of shape when struck, and they will twist when struck by a wood beam going 34 miles per hour, but they must remain attached to the jamb for the louver to pass the test. If a blade falls out or detaches from one of the jambs, then the louver fails the test.
Watch this video to see the impact test in action.
AMCA 540 Listing Labels
For AMCA 540 testing, manufacturers may choose to test their louvers for basic protection (Basic Protection Level D) or enhanced protection (Enhanced Protection Level E). The test missile will move at 50 feet per second when testing the louver for basic protection. This is about 34 miles per hour. When testing for enhanced protection, the test missile will move at 80 feet per minute, or about 55 miles per hour. The AMCA listing label will list which protection level applies to the louver.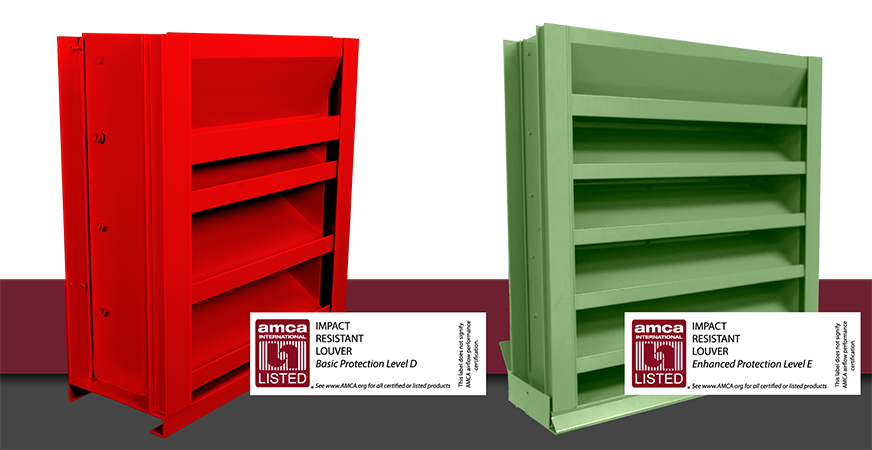 Louver models must be tested at multiple sizes to pass. Louvers of different sizes will have different characteristics. For example, a short louver will typically have fewer blades than a tall louver. A wide louver will have longer blades. These differences in design warrant testing louvers at various sizes. Samples must be tested for the following sizes:
Maximum width with no blade supports (single panel)
Maximum width with no blade supports (multiple panels, full mullions)
Maximum height
Minimum width and height
This requirement ensures that the louver will withstand the force of an incoming windborne missile, regardless of its size. If one sample size fails impact testing, then the louver model fails the full AMCA 540 test.
If you are building in a hurricane-prone area, then hurricane louvers will be required at key points in your building. Many modern building codes will require that all hurricane louvers be listed for AMCA 540 and AMCA 550. Check for listing labels on the submittal when choosing louvers for your project. These labels will correspond to the tests completed by the louver.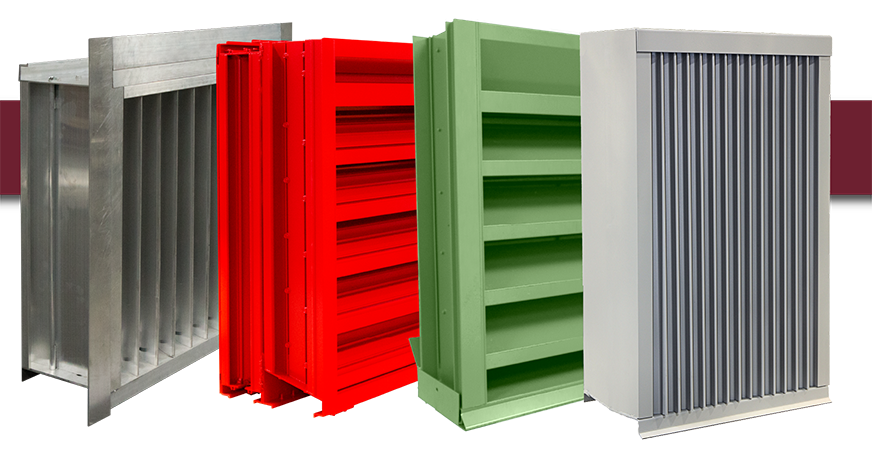 You can also double check with AMCA's Listed Product Search, to ensure the louver models are listed with AMCA.
Choose louvers built to weather the worst. Keep your interiors safe with the right hurricane louvers.
Hurricane Louvers by MCDLG
MCDLG offers several hurricane louver models, listed for AMCA 540 and AMCA 550, through Arrow United Industries, Air Balance, and Airline Louvers. Browse our full catalog of louvers online with Product Pro, our powerful search and filter tools. Find the right louver, faster, Product Pro:
For our full line of hurricane louvers, set the Louver Purpose filter to Hurricane Protection. Ready to start your next project? Contact MCDLG today! Let's work together to meet your hurricane protection requirements.
For more on severe weather louvers, check out these Newsstand articles:
Need severe weather louvers for your next project? Contact Arrow United Industries today and let's work together on your louver requirements!