In this Condenser article, we dive into the MCDLG catalog to examine the AFD-20 series, our most popular control dampers. Keep your system efficient with a control damper built for air performance.
Air needs to move through an HVAC system: from the intake at the start, across ducts and junctions, to the rooms that need it. An efficient system provides the necessary airflow while drawing the least amount of power. Efficient designs save money and energy over time, especially in HVAC. Efficient HVAC systems contribute towards the Green Building Initiative and can even earn LEEDS credits for your project. Start your designs with control dampers built for air performance.
Control dampers direct airflow through the system. These dampers rotate their blades to open or close off the opening. An efficient control damper allows air through its open blades with little resistance. Dampers should also tightly close when the flow stops, so that air does not leak through. These two aspects ensure air flows efficiently to where it is needed.
Don't settle on dampers that drag your system down. Consider a control damper built for air performance. MCDLG offers the AFD-20 series control damper. The AFD-20 series is a versatile damper equipped with airfoil blades. Their aerodynamic profile allows air to pass over the blade with minimal resistance. Silicone rubber blade seals ensure a tight closure with minimal leakage. Don't settle on excessive pressure drop or leakage. Maximize air performance and system efficiency with MCDLG.
Build an efficient HVAC system from the ground up. Choose control dampers built for air performance. Consider MCDLG products to your next project.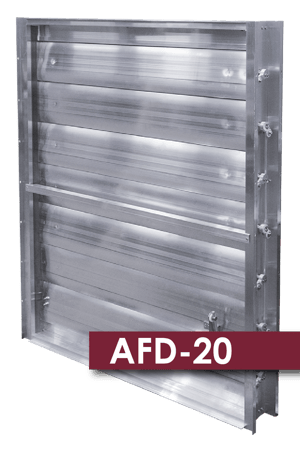 Highlights of the AFD-20 Series
Available with parallel or opposed blade configuration. Read more about blade orientation on the Newsstand.
Automate your damper with a pneumatic or electric actuator. Electric actuators can be tied to a central control unit for full system automation.

For easy-access dampers, add a manual actuator to the damper and save some money.

Variations on construction are available under the following model numbers:

The AFDTI-25 series with insulated airfoil blades
The AFDTI-25-I series with insulated blades and frame
The AFDTI-25LT series with insulated blades and thermal break frame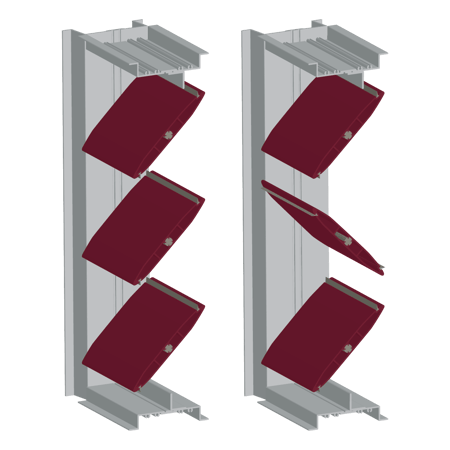 Model numbers listed by Brand
Search for the AFD-20 series control dampers with Product Pro. Browse the full product offering of all MCDLG brands and find what you're looking for, faster.
Arrow United Product Pro: AFD-20, AFDTI-25 & AFDTI-25I, AFDTI-25LT
Air Balance Product Pro: AC525-AC526*, TB-58 & TB58I, TB59
Cesco Product Pro: AAA/AAB*, ITAB & ITABI, ITAF
Louvers & Dampers Product Pro: A28/A29*, T28B & T28BI, T29B
*Model number is split between parallel and opposed blade orientation. Check the product submittal for details.
Are you looking for an efficient control damper? What do you think of airfoil blades? Tell us what you think in the Comments section below. We want to hear from you!
MCDLG is Here to Help!
MCDLG is here to help! We can help you meet your HVAC requirements, from start to finish.
New to the HVAC industry? Or maybe you need a fresher. Browse the MCDLG Newsstand for explanations on industry terms and stats. Learn the basics of louvers and dampers, and how to choose the right equipment for your next project.
MCDLG also offers continuing education courses through our Campus Portal on AEC Daily! Learn at your own pace through our online courses or schedule a webinar for any course and take a more traditional approach. Learn important HVAC principles and earn continuing education credits from a variety of institutions, including ASHRAE and AIA.
Maybe you have a question regarding a current or future project? MCDLG can help! Visit our contact page and leave us a message. We will gladly help you find what you need, whether its information or custom-built louvers and dampers. Let us put our 50+ years in the industry to work for you.
We are the Mestek Commercial Damper and Louver Group, a collective of top-tier HVAC brands. Don't go it alone. MCDLG is here to help!