In this Condenser article, we discuss the benefits of electric actuators. Achieve full automation of your louvers and dampers with electric actuation!
Electric Actuation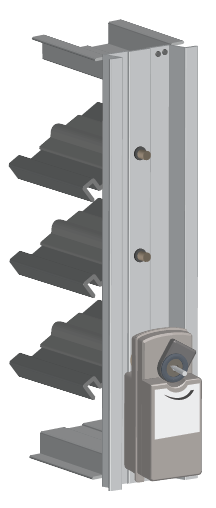 Control dampers and adjustable louvers will come with a manual actuator, requiring an operator to adjust the blades by hand. This setup would only work if you can easily access the actuator to make these adjustments. Your louvers and dampers likely won't be easy to access. They will be installed all over your building in hard-to-reach places. You'll need actuators that work remotely.
Electric actuators automate blade action. They utilize an electric motor to rotate the driving blade axle, which turns the other blades connected via the linkage. These actuators will require a constant power source to operate. You will need an electrician to properly install and wire them.
Electric actuators can also be tied to an HVAC control system for fully automated control. Once connected, the system can signal the louver or damper to open and close as conditions change. Blades will open and close remotely, as needed. Sit back, relax, and let your electric actuators control the flow.
Standard electric actuators will rotate the blades to fully open or fully closed. However, modulating electric actuators can set the blade to rotate to an angle between the two standard positions. Modulation comes in handy if your application requires fine-tuned air flow. Make sure the damper or louver is designed for blade modulation before choosing this option.
Know what you need before selecting an electric actuator:
Actuator Voltage - How much power will your actuator need? Will your system have the right power?
Modulating - Do you need to modulate blade rotation? If so, how many
Power Loss Action – If the actuator loses power, should the blades default to open or closed?
Mounting – Will your actuator need special hardware to be installed on the louver or damper? Will the louver or damper fit in its opening with the actuator installed?
Read more about other types of actuators and where to use them in our Newsstand article: Actuators - Making Adjustments.
Did you add an electric actuator to your last control damper? How did it go? Share your stories in the Comments section. MCDLG wants to know!
MCDLG & Continuing Education
Want to know more? MCDLG offers free self-paced courses on louvers, air control dampers, and life safety dampers.

Our continuing education courses provide CE credits for a variety of institutions, including ASHRAE's PDUs. Learn the basics of control dampers and earn credit, at your own pace. Visit the MCDLG Campus Portal today!
Do you have a question on something we haven't covered here? Or maybe you need help from industry experts? MCDLG can help. Contact us by clicking on the button below.