Louvers can add style to your building. Learn a few pointers on louver style with this quick read on the MCDLG Newsstand.
They may seem like dull squares, but louvers can provide a touch of style to your project. Louvers serve a key role in HVAC by protecting ventilation points. You should always start with louvers that meet your project's requirements. You can apply a finish to your louvers to make them pop in the opening or have them blend in with surrounding elements of the building. The right finish can go a long way to adding some style to your building.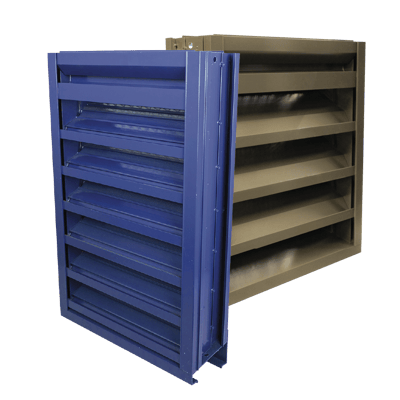 The right finish can help your louvers blend in or stand out. They can also provide an extra layer of protection from corrosion.
The style options don't end there. Louvers can do more than weather protection and air performance. They can also enhance the building's aesthetic. Once you've met your requirements, then consider adding some more louvers to your building as style enhancers.
Looking for louvers? Contact Airline Louvers and let's work together on your next project. We can help you match the style of your project while meeting requirements.
Louver blades create a series of straight lines when viewed from the face of the louver. These lines will run horizontally or vertically, depending on the orientation of the blades. Straight lines are a valuable tool in design. They can draw attention to other features or create divisions between segments of space. Designers can point to an important feature on their building with a well-placed louver.
Thin line architectural louvers can create a series of straight lines along the building's envelope. These lightweight louvers can have a standard frame, or they can be built without one. Vertical blade supports will support the blades of frameless louvers. These support members are installed along the back side of the blades to hold the louver together. Thin line louvers can also be combined into larger assemblies using hidden mullions between each section. Hidden mullions create a continuous line look with an uninterrupted blade profile. Cover a wall with a continuous line louver and add straight lines across its surface.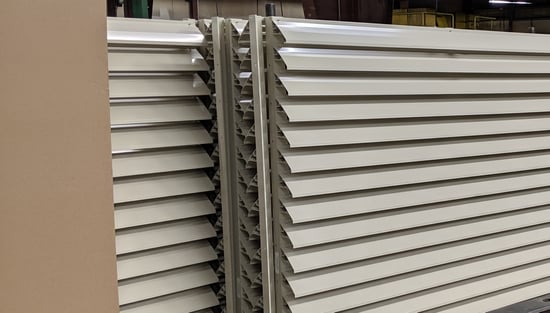 Pictured: A frameless section of louver using vertical blade supports.
With the right finish, louvers can blend in with surrounding elements or stand out on their own. Color matching options help designers achieve the right shade for their designs, so that the finished project matches their concepts. Advanced powder finishes keep colors true for a long time without needing touch ups. Many powder finishes are also resistant to chalking and marring. You will need to consult the manufacturer for details on their powder finishes. For more ways to customize your louvers, check out "Options for Louvers".
As you can see, louvers can be more than dull squares of metal. There are many ways to turn these assemblies into works of art. Consider adding stylish louvers to your next project.
For more on louvers, check out these Newsstand articles:
Any questions? Maybe you need help with your next project? Contact MCDLG today. We're here to help!