Backdraft dampers provide a cost-effective way to direct air in one direction. This article explains how they work.
Imagine that you are designing an exhaust point for your HVAC system and you need a damper right before the exhaust opening. This damper should open only when the system is releasing air. Otherwise, the damper should remain closed.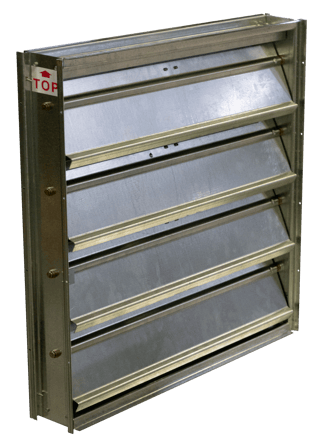 For backdraft dampers, blade shafts will run through the one end of the blade. These blades will rotate along this edge, acting like a flap.
You may choose a standard control damper to perform this action. However, an extra damper will require more maintenance. The damper's actuator will also need to be tested on a regular basis, to make sure it opens and closes at the right time.
During cold seasons, a standard control damper may allow frigid air back through the system as it closes. Your system will work harder to maintain the right temperature as more cold air seeps in.
Inefficient heating and extra actuators require more energy, extra maintenance, and more money in the long run. You should choose a backdraft damper for this scenario.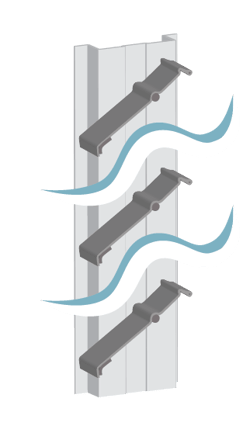 Backdraft dampers are designed for applications where air should only flow in one direction. These dampers always start in the fully closed position. Once air flows in the intended direction, it pushes the blades of the damper into the open position. As soon as airflow stops, the blades of the damper immediately fall to the closed position. If air flows in the opposite or wrong direction, then the blades will stay closed. This design ensures that air only goes in one direction and that airflow will not pass back through the other way.
Air performance is important in an efficient HVAC system. Read our quick Condenser article for a few pointers on maintaining keeping airflow moving through your system: Air Performance and Keeping the Flow.
The primary difference is the blades. The blade axles of standard control dampers will run through the center of the blade. Each blade will rotate along their individual centers, either parallel to each other or opposed to their neighbors. Blade action requires an actuator on control dampers. Backdraft dampers work differently.
For backdraft dampers, each blade axle runs through one side of the blade. These blades will rotate along the axle side of the blade, acting like a flap. This allows the blades to open when air pushes on one side of the damper and keeps them closed when air comes from the opposite direction. Air flow will control the damper's blades. Backdraft dampers do not require an actuator to operate.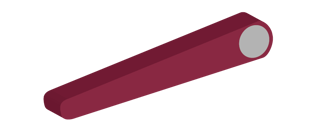 Above is an example of a teardrop blade. The blade profile starts wide at the back of the damper and tapers down to a rounded edge, resembling a teardrop.
You can add a counterbalance to the backdraft damper to facilitate the opening or closing action. The counterbalance is a metal arm attached to the top-most blade of the damper. This arm will typically have weighted plates attached to the end.
Once installed, the counterbalance can be adjusted to assist or resist the damper's opening action. If you don't want cold air getting into your heating duct, then you may want the counterbalance to resist the opening action. This way, the counterbalance can further assist the closing action when the air passes through.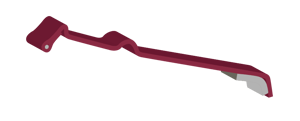 Backdraft dampers provide one-way airflow without the need of an actuator. These dampers can save you time and money in the long run. Backdraft dampers must be used in areas where air will only flow in one direction, such as the intake and exhaust points of your system. If the application requires dual-direction airflow, then you must use a standard control damper.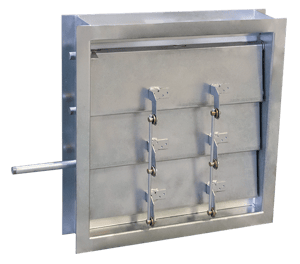 Backdraft dampers allow air through in the intended direction, they close quickly, they provide a tight seal, and they cost less to maintain. If you need a damper for one-way air flow, then consider using a backdraft damper.
What do you think of backdraft dampers? Have you ever worked with these dampers before? Share your stories in the Comments section. We want to hear from you!
MCDLG & Continuing Education
Looking for more information on control dampers? MCDLG offers free self-paced courses online through AEC Daily.
In "An Introduction to Air Control Dampers", we cover the basic stats, damper types, terms, air control principles and requirements involved in control dampers.
This course takes around 75 minutes to complete and provides continuing education credits for a variety of institutions, including ASHRAE's PDUs. Learn the basics and earn credits, at your own pace. Visit the MCDLG course page on AECDaily.com today!
Do you have a question on something we haven't covered here? Or maybe you need help from industry experts? MCDLG can help. Contact us by clicking on the button below.