Each type of louver is designed to fulfill a certain role in your building, but is there a louver that can work for everything? Learn which traits make a certain louver fit best into a particular application.
Some louvers are better at protecting your duct work from rain. Some are better at ventilation. But is there a louver that can do it all? Why not use a hurricane louver for all rain applications? They have the highest level of rainfall protection of any other louver. What about a wind driven rain louver for light rainfall? Better safe than sorry, right?
Let's look at different types of louvers and see how they might work in another application.
For a more comprehensive look at louvers, check out our free online course: "An Introduction to Louver Selection". This guide covers everything you need to know, from louver types to proper sizing. Even better, it offers continuing education credits for ASHRAE and AIA.
Water Penetration Louvers for Air Performance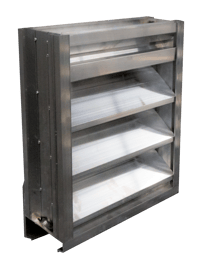 Water penetration louvers provide the lightest level of protection against rainwater. All louvers can protect from rainfall to a certain degree, but water penetration louvers are specifically designed and tested to prevent rainwater from entering the ventilation opening. They are also rated by AMCA and receive an AMCA seal for Water Penetration.
Water penetration louvers are equipped with blades that have features and catches that stop water from passing through. These features will affect the louver's air performance, but to a lesser extent than a wind driven rain louver. Certain water penetration louvers are also rated for air performance. These louvers can strike a balance between ventilation and protection.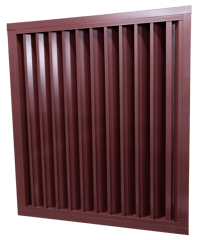 However, an air performance rating only means the louver was tested for this purpose. You can't determine the louver's specific capabilities with the rating seal alone. You will need to check the results of the test on the louver's submittal. Learn where to look with our free article: Anatomy of a Submittal.
Read about the louver's pressure drop data, its free area measurements, and its beginning point of water penetration when considering the louver for one application or another. A louver with high free area and low pressure drop will serve as an excellent ventilation louver. A louver with a high beginning point of water penetration will work best for protecting the interior from light rainfall.
For advanced protection, you will need a louver rated for wind driven rain or hurricanes.
Wind Driven Rain Louvers for Water Penetration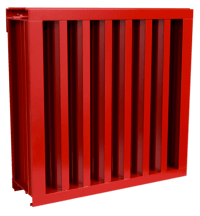 Wind driven rain louvers prevent water penetration during major storm events, where high winds could push heavy rainfall through a standard louver. In many cases, a wind driven rain louver will provide better protection from rainwater than a louver rated for water penetration. However, this advanced protection often comes with decreased air performance.
Wind driven rain louvers are designed to block rainfall, first and foremost. These louvers have blade profiles designed to prevent water from entering the ventilation opening. Their blades will generally have more catches to prevent excess moisture from passing through. These are important features for blocking wind driven rain, but they will affect the louver's air performance.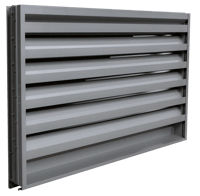 Certain wind driven rain louvers provide an adequate balance between ventilation and water penetration protection, but the primary focus of the louver's design will be rain resistance.
If you need the louver to focus on air performance, then you want to consider a water penetration louver instead. Choose a wind driven rain louver if your top concern is keeping your interior spaces dry, or if severe weather is common in your area. Your application may require a heavy-duty wind driven rain louver.
The best way to determine the louver's effectiveness in any application is to check the louver's submittal data.
Hurricane Louvers for Wind Driven Rain and Water Penetration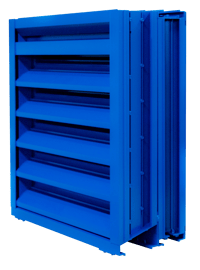 In certain parts of the country, the building code will require hurricane louvers in your building's ventilation openings. These areas are referred to as High Velocity Hurricane Zones, or HVHZs. If your building is in an HVHZ, then you will be required to use hurricane louvers for your building.
Hurricane louvers are designed to protect your interior spaces from heavy rainfall, hurricane-force winds, and impacts from wind borne missiles. These louvers often come with a drain pan to help drain the large amounts of water blocked by the louver's blades.
Each hurricane louver model is tested to multiple industry standards. No other louver type is designed, tested, or rated to protect openings in a HVHZ. Hurricane louvers provide the highest level of water penetration protection. However, that protection comes with a price.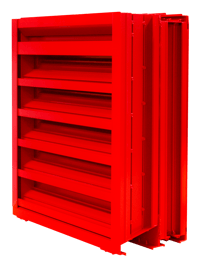 Hurricane louvers are larger and heavier than other types of louvers. They will require an opening that can support the size and weight of the larger louver, as well as specialized supports. Hurricane louvers are also more expensive than wind driven rain and water penetration louvers.
Certain hurricane louvers provide adequate air performance and receive AMCA seals for Water Penetration and Wind Driven Rain. However, a hurricane louver should only be used for a hurricane application. Unless your building is in a High Velocity Hurricane Zone, consider using another type of louver for your intended application.
Air Performance Louvers for Water Penetration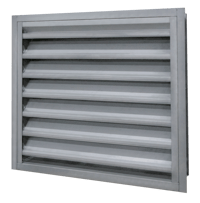 Every louver provides a basic level of protection from rainfall, even louvers designed for air performance. Other types of louvers can provide adequate ventilation for their intended application.
However, louvers rated solely for air performance are not tested or rated for any other protection type. Many of these louvers have no features on their blade profile, with no means to capture water as it passes through the louver.
A louver rated for water penetration, wind driven rain, or hurricane applications has been tested to the specific standards of each application. Check the louver's submittal for the relevant data before choosing the louver for any application.
Some louvers may perform multiple roles and work for multiple applications. You may find an air performance louver that also meets your water penetration needs, or a wind driven rain louver that provides the right amount of air flow. Ultimately, you should always check the louver's submittal to ensure the louver will work for your application. Always choose the best louver for the application.
What do you think? Are there louvers that can fit any application? Are the trade offs worth an all-in-one solution? Tell us what you think in the Comments section. MCDLG wants to hear your opinion!
MCDLG & Continuing Education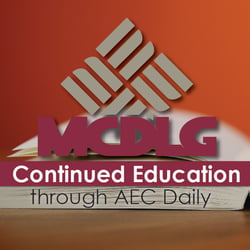 MCDLG offers free self-paced courses online through AEC Daily.
Our louver course, Louvers for Style and Aesthetic, goes over all the basic stats, terms, and principles involved in choosing louvers for any application. You can also learn how to enhance building envelopes with stylish louvers.

This course provides continuing education credits for a variety of institutions, including AIA's LIUs. Learn the basics of louvers and earn credit, at your own pace. Visit the MCDLG course page on AECDaily.com today!
Do you have a question on something we haven't covered here? Or maybe you need help from industry experts? MCDLG can help. Contact us by clicking on the button below.