Choosing the right louvers can be tough. Here are five things you should know to make the right decision.
You need louvers for your project. Where do you start? You can't just pick louvers out of a catalog and go. There is a process involved in choosing the right louvers. Do you need a louver to protect interior spaces from severe weather or should it focus on airflow? There are a few things you need to do before selecting the right louvers. Here are five things you should know when choosing louvers for your project.
1 - Know What You Need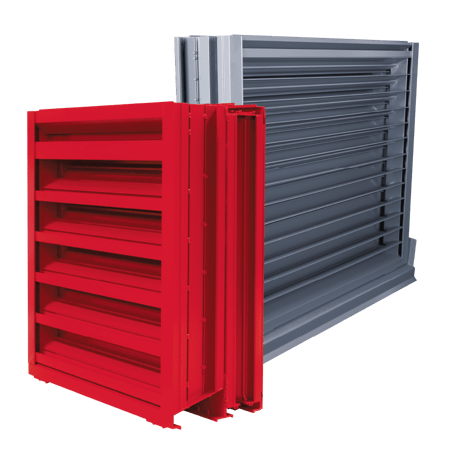 Start with knowing what you need for each application. Your project will have multiple ventilation openings, but there may be more places that need a louver's protection. Review your project and find where you will need to install louvers. Determine where each louver will go and know the louver's purpose. What will the louver do when it is installed? Is air performance the top priority or is it weather protection? Will the louver need to protect from severe weather? Is your project in a high velocity hurricane zone? The answers to these questions will form the requirements for the louver.
You will also need to investigate local building codes for your project, as they establish specific requirements that you need to follow. For instance, you may be required to install hurricane louvers at certain points on your building to protect from windborne debris. In this case, you would select louvers rated to a specific standard like AMCA Standard 550. The requirements will state which standards are required of the louver.
Know what you need before you look for louvers. Manufacturers offer many kinds of louvers, which can make it difficult to find the right one. You can narrow down your search by reviewing your project and understanding its requirements.
2 - Know the Size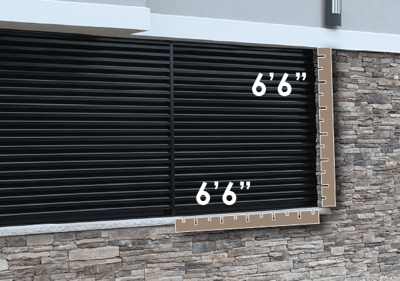 The next important consideration will be size. How big will the louvers need to be to cover the required area? Each louver will need to fit in the designated space. This will often be a ventilation opening for your HVAC system. Measure the dimensions of ventilation openings to determine the required size of the louver. Manufacturers will typically reduce the louver's dimensions by a small amount (usually 1/4 of an inch) to account for changes in the size of the opening. You will need to specify with the manufacturer if you need exact sizing.
All louvers will have a maximum single panel size, which indicates the largest possible size for a single louver. You can cover most applications by connecting louvers together into multi-panel assemblies. Multi-panel assemblies will have visible divisions between louver sections, known as mullions. You can choose to recess or hide the mullion with special options. These assemblies will also require additional support to maintain structural integrity.
Not all applications will be a square hole with four sides. Louvers can be installed anywhere with structural support. You won't always be filling a square or rectangular hole. In these cases, you will need to measure the area that requires coverage. This can be a hole in the wall that needs a louver, a roof that needs a screen, or any application where a louver is needed.
Manufacturers will typically provide information on the required support. They will also furnish the necessary angle clips for installing the louver. You may also need to consult with an engineer to determine the necessary support for your louvers. The right size louvers will cover the necessary space and perform their intended role.
3 - Know the Louver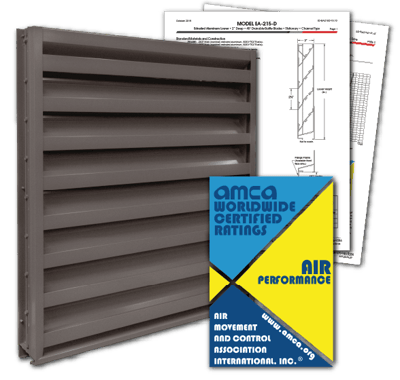 The next step is knowing which louvers will work for you. For this, you will have to know the louver. Manufacturers will provide submittal documents for each louver. Submittals contain specifics on the louver's construction, such as what its individual parts are made of. They also have performance data like pressure drop. You will need to gather this information when deciding on the right louver. Start by picking a louver and collecting the following information from its submittal: free area for the necessary dimensions, pressure drop, and if available, the beginning point of water penetration and wind driven rain data.
When gathering this data, be sure to look for the product's AMCA seals on the submittal. AMCA is the Air Movement and Control Association: an international, not-for-profit association of HVAC manufacturers. AMCA seals signify that the tests performed on the louver were completed in AMCA-approved laboratories and in accordance with AMCA's standards for louvers. All data points are collected using standardized methods, agreed upon by all AMCA members, and approved of by a leading, multi-industry institute for establishing these standards. These standards establish trust in HVAC products. Louvers with AMCA seals will perform according to their published test data. Interested in louver mechanics? Check out AMCA's official educational materials here, including PDF documents explaining performance metrics for louvers.
Specifications will often require AMCA seals, especially for severe weather applications. It is important to understand what prospective louvers can do before you add them to your project.
4 - Know All of Your Options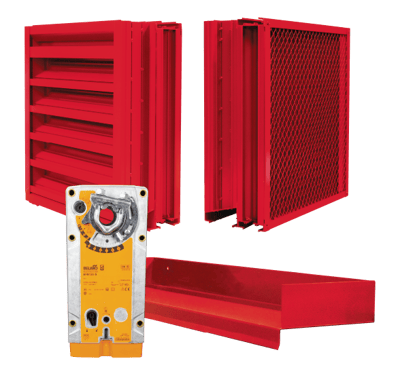 Each louver will have optional features and accessories that can support the louver's function. Once you've selected your louvers, be sure to review the available options for each unit. For instance, a drain pan will prevent excess water from spilling back into the ventilation opening. Many severe weather louvers will come with a drain pan as a standard feature, but it will be optional for other louvers.
Actuators can open and close adjustable louvers, but they may impact air performance if they are mounted behind the louver. Certain options will always affect the louver's performance. Bird screens protect your interior from uninvited guests, but they will also have an impact on the louver's air performance. Aesthetic options, like special shapes, will affect the louver's performance. If the louver serves a purely aesthetic purpose, then performance won't be an issue. Keep this in mind when adding options to your louvers.
Determine how the accessory or option will affect your louver before adding it, even if the option will be a necessary component. It's important to understand your options.
5 - Know When They Arrive
The last step in the selection process is knowing when the louvers will arrive onsite. Manufacturers will provide a lead time schedule for their products, which estimates how long it will take to assemble each louver. Keep in mind that these estimates do not include shipping time. Check the lead time schedule provided by the manufacturer and determine when to expect your louvers.
Selecting the right louver can be a complicated process. There is more to it than picking a few models from a catalog. The first step is knowing how to make the right decisions.
For more on louver selection, check out these Newsstand articles:
Starting a new project? Need to meet some severe weather requirements? Contact MCDLG today. We can help you meet your project's requirements with louvers built for the task!