How do you get that louvered look without a frame? Vertical blade supports. Learn more about these blade supports with this quick Condenser article.
Louver blades can add a touch of style to a building's envelope. The lines created by blade profiles can draw the eye towards other features. And with the right color, you can create a contrast between these features or blend them together. For aesthetic applications, you only need the blade profile to create these contrasts. This is where vertical blade supports come in.
Vertical blade supports are structural members that support the blades of a louver. They can be used with a large, framed louver or as a substitute for a frame. Small blades, like the ones typically used in equipment screens, can be inserted into slots cut along the blade support. Large blade profiles will utilize brackets and traditional blade fasteners to fix the blade to the blade support. Traditional fasteners and brackets provide a strong hold between blade and support, but they also increase the size of the unit's profile. This design cuts down on the required fasteners and minimizes the panel's overall profile.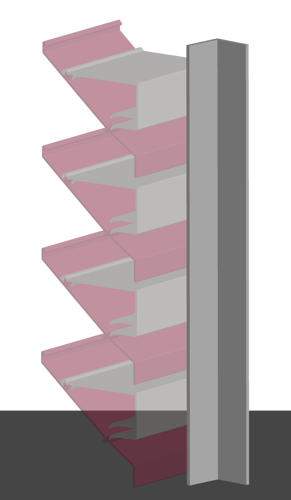 The vertical blade support will sit behind the blades. The VBS can be used as a concealed mullion or as a frameless option for louvers.
For most louvers, blade are fastened to the jambs of the louver. They can be fastened to the jamb by screws or, for steel louvers, welded to the jamb for a secure hold. The louver's frame supports the blades. Vertical blade supports eliminate the need for a discrete frame. The exact number of supports will vary depending on the width of the panel. There will be two blade supports at a minimum, one for each side of the panel. Wide panels will require additional blade supports at the center of the panel to prevent sagging or warping. Certain applications may require additional supports for panels, such as equipment screens subjected to greater wind loads. Manufacturers will provide the best distribution of blade supports, depending on the width and wind load requirements of the complete assembly.
Vertical blade supports can be anchored directly to walls or to any support structure. Now, you can add that louvered look to any surface. These supports can also act as posts to keep panels upright if they are used as part of a vision or equipment screen. Once installed, the supports will be hidden by the blades. The result is a blade profile the appears suspended over the wall.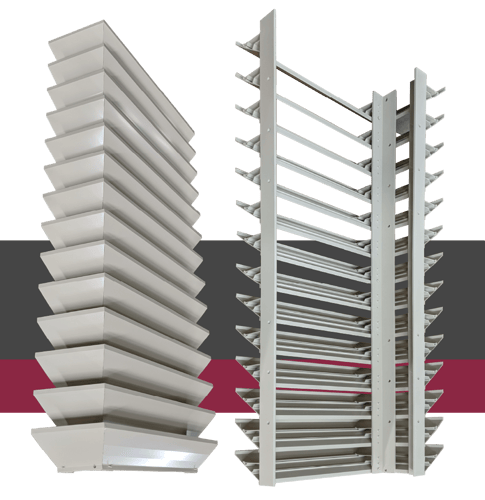 On left: the front side of a louvered screen corner with vertical blade supports. On right: the VBS attached to the back of the blades.
Looking for a way to draw attention to those aesthetically pleasing features along your building's envelope? Consider adding an architectural louver with vertical blade supports to your designs. These units add a nice touch without the bulky frame.
Need sunshades or other louvers for an upcoming project? Airline Louvers can help you meet requirements without compromising the project's style. Contact Airline Louvers today and let's work together!
For more on louvers, check out these Newsstand articles:
MCDLG is Here to Help!
Need some help? Do you have a specific question about your current job? Or do you need a head start on your next project? Talk to MCDLG! We can bring our 50+ years of experience to the table. We are here to help you.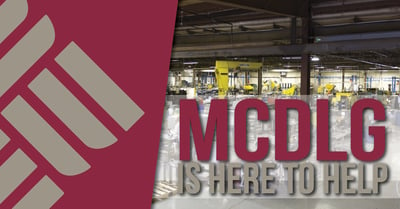 From continuing education to equipment considerations, all the way to providing top-quality finished products, and to post-sales support. We assist our customers every step of the way. Interested? Read our article on all the ways we can help you: MCDLG is Here to Help!
Need help right away? Contact MCDLG today. We are ready to help you.