In this Condenser article, we review the design of the combination adjustable louver. Regulate airflow at the opening and keep that louvered look with one louver.
Stationary louvers are often paired with a control damper to close off the louver. With this setup, you can close the louver once the air intake process is complete. This setup will cost extra time and money to install a damper behind the louver, but many manufacturers offer an alternative: the combination adjustable louver.
Combination adjustable louvers have a front set of stationary blades and a rear set of adjustable blades. The face-side blades keep the louvered look along the face of the louver while the adjustable blades are closed. Both sets of blades are contained within one frame, unlike the two-frame design of the combination stationary louver.
The adjustable blades are situated along the rear section of the louver, so that they can freely rotate between open and close. When open, the adjustable blades meet up with the stationary blades to create a singular blade profile. The face-side blades maintain the look of a stationary louver, even when the adjustable blades are closed.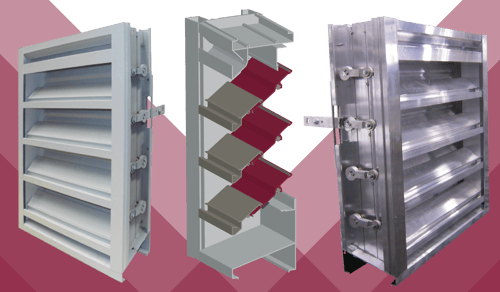 The adjustable blades typically have a flat profile for the unhindered air performance. This design minimizes pressure drop caused by the adjustable blades when the blades are fully open. However, adjustable blades can also have catches to assist with blocking rainwater while open. This creates an second layer of protection from water penetration.
Combination adjustable louvers will often use in-jamb linkage to translate blade rotation across the rear blades. The adjustable blades will be tied to an actuator to facilitate blade rotation. Seals along the face and rear edges of the blades ensure a tight closure with minimal leakage.
Combination adjustable louvers are commonly called "louver dampers". The adjustable blades act as a built-in damper, opening and closing to regulate airflow through the louver. For a real-world example, let's look at the AC6D35H, a combination adjustable louver from Airline Louvers.
The AC6D35H has drainable face-side blades and single-thickness adjustable blades behind them. Here are a few bullet points.
Drain channels located on the stationary face-side blades, for quickly removing rainfall from the louver face.
Adjustable rear-side blades have a smooth, single thickness profile tailored for air performance.
Pin-lock axles keep the adjustable blades secure and slip free.
The AC6D35H is AMCA tested and rated for Air Performance and Water Penetration.
Options include screens (bird or insect style) and actuators (manual, pneumatic, and electric)
Also available with adjustable airfoil blades as the AC6D35HAF.
Meet your project's requirements with a two-in-one louver solution. Consider combination adjustable and combination stationary louvers from Airline Louvers.
Do you want to keep that louvered look? Have you used combination adjustable louvers in your latest projects? Share you thoughts in the Comments section. We want to hear from you!
MCDLG is Here to Help!
MCDLG is here to help! We can help you meet your HVAC requirements, from start to finish.
New to the HVAC industry? Or maybe you need a refresher. Browse the MCDLG Newsstand for explanations on industry terms and stats. Learn the basics of louvers and dampers, and how to choose the right equipment for your next project.
MCDLG also offers continuing education courses through our Campus Portal on AEC Daily! Learn at your own pace through our online courses or schedule a webinar for any course and take a more traditional approach. Learn important HVAC principles and earn continuing education credits from a variety of institutions, including ASHRAE and AIA.
Maybe you have a question regarding a current or future project? MCDLG can help! Visit our contact page and leave us a message. We will gladly help you find what you need, whether its information or custom-built louvers and dampers. Let us put our 50+ years in the industry to work for you.
We are the Mestek Commercial Damper and Louver Group, a collective of top-tier HVAC brands. You don't have to go it alone. MCDLG is here to help!