Curtain blades are designed to close off a damper during a fire event. Take a closer look at these damper blades, and learn how they work, with the Condenser.
Passive fire protection is a vital component of your building. Passive fire protection is designed to alert occupants of a potential fire and slow the spread of flames and noxious fumes. For HVAC, smoke dampers and fire dampers act as passive fire protection. Fire dampers are installed in or near fire-rated barriers.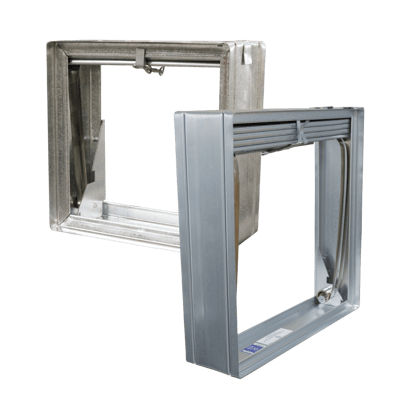 Fire dampers close at the first signs of a fire. This design works to isolate the fire behind the barrier and to maintain the barrier's fire rating. There are many ways to achieve closure against a potential fire, but the most common way is to choose a fire damper with a curtain blade.
Looking for curtain fire dampers? Air Balance can help! We build fire dampers for passive fire protection in your HVAC system. Contact us today and let's fulfill your fire safety requirements!
Curtain Blade - Design
A curtain blade is an accordion-style damper blade that unravels when released. The blade consists of several metal slats that interlock at the edges of each slat. These slats are designed to fold together into a stack during standard operation. This stack is typically held in place at the top of the damper with a fusible link. During a fire, the fusible link will melt away which in turn releases the curtain blade.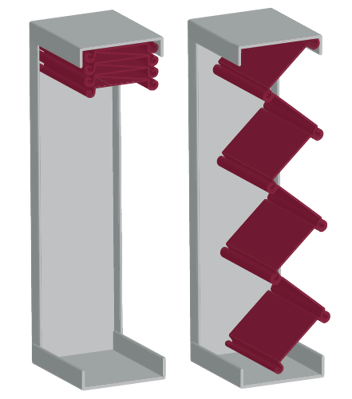 The curtain blade will fall over the opening. Curtain blades can also be spring loaded to close against airflow or to close across a horizontal plane. The bottom slat will land into a locking mechanism along the sill of the damper, locking the curtain in place.
Curtain Blade - Purpose
The curtain blade is designed to fully cover the opening of the damper when deployed, preventing flames from passing through the wall penetration. This is important during a fire scenario. The key is to isolate the fire behind the barrier, and to slow its spread into other parts of the building.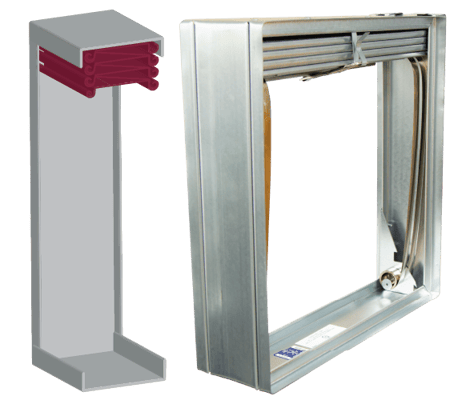 There is no way to automatically reopen the damper. An operator must manually unlock the curtain blade from the locking mechanism, return the blade stack to its place at the top of the damper, and hold it in place with a fusible link. Curtain blades are an affordable yet effective way to maintain a fire-rated barrier.
Design a passive fire protection system with the fire dampers built for the task. MCDLG brands offer curtain fire dampers with several options, including stainless steel construction, transition sleeves, integrated sleeves, and static or dynamic closure. Contact Air Balance about our D19 dynamic curtain fire dampers today.
For more on dampers, read these other Newsstand articles:
MCDLG & Continuing Education
MCDLG offers free self-paced courses online through AEC Daily.
Our UL Damper course, Fire & Smoke Protection with Life Safety Dampers, goes over all the basic stats and terms involved in choosing life safety dampers for your passive fire protection system.

This course provides continuing education credits for a variety of institutions, including ASHRAE's PDUs. Learn the basics of UL dampers and earn credit, at your own pace. Visit the MCDLG course page on AECDaily.com today!