There are three types of metal that make up most louvers and dampers. Learn the difference between the big three and the benefits of each on the Newsstand.
Louvers are permanent fixtures in a building's envelope, only replaced when they are damaged or destroyed. They are built to endure the elements, like rainfall, high winds, and sunlight, for many years. Dampers are installed indoors, but they open and close many times a day. They need to pass air from point to point until it reaches its destination. These assemblies need to be built to last. That is why many louvers and dampers are built from durable metals like extruded aluminum and galvanized steel. In this article, we will look at the three big metals used most often in building louvers and dampers.
Metal #1 - Extruded Aluminum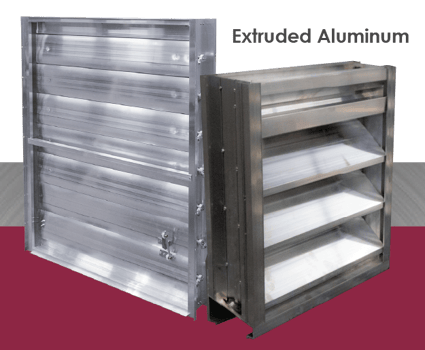 Extruded aluminum is common for louvers and control dampers. Aluminum is a reliable, lightweight metal that can be formed into the right shape, using the extrusion method.
Extrusions involve pushing metal through a die of the desired cross section. Think of it like pushing toothpaste through the spout of its tube, except that the spout takes on a specific shape instead of a circle. The aluminum extrusion takes on the desired shape of the cross section as it passes through the die. It keeps that shape forever. This process requires immense force. Manufacturers can keep dies for the individual parts of the louver or damper and extrude the necessary parts to assemble each product.
Aluminum is also the only metal of the big three that can reliably accept an anodized finish. Anodizing creates an oxidized layer that fills in the micropores along the metal's surface and further protects the louver from corrosion. These micropores also make it easier for powder paints to adhere to the metal. Extruded aluminum products will be lighter than steel. They are sturdy enough to handle tough applications. Hurricane-rated louvers are often built from extruded aluminum and can withstand impacts from windborne debris.
Metal #2 - Galvanized Steel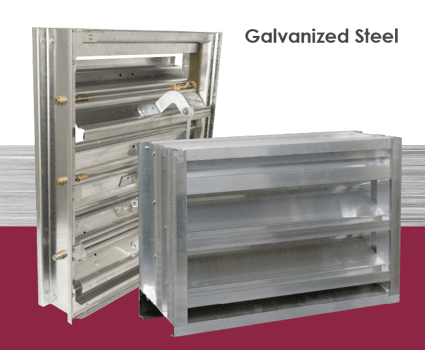 Galvanized steel is a durable metal commonly used in control dampers and life safety dampers. It can also be used in louvers that need more structural resilience. This metal has an added layer of protection than standard steel. Galvanization is the process of adding a layer of zinc to the metal's surface. While intact, this zinc coating protects the underlying steel from corrosive substances and prevents rusting. Galvanized steel is an excellent choice for outdoor louvers and dampers. Manufacturers can use various press methods to form the necessary shapes for louvers and dampers. Therefore, many galvanized steel products are commonly referred to as "formed steel" products.
These products can perform the same tasks as their aluminum counterparts, with the increased toughness of steel. However, the final assembly will weigh more. Galvanized steel louvers and dampers will require additional support when installed. Galvanized steel is an excellent option for tough applications, but there is another option for steel.
Metal #3 - Stainless Steel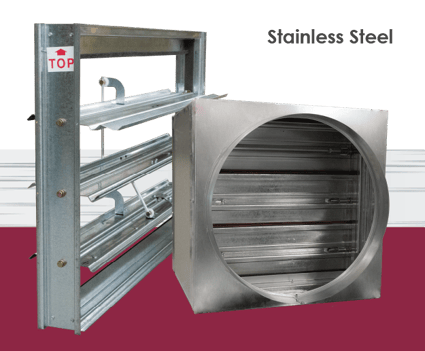 Stainless steel is considered the toughest option for standard applications. Most galvanized steel louvers and dampers will have the option to use stainless steel, at a higher cost. In fact, manufacturers often use similar press methods for forming stainless steel components.
Type 304 is the most common alloy for stainless steel, consisting of iron, chromium, and nickel. The resulting alloy is more resilient and more resistant to corrosion, making it the toughest of the three metals. Type 304 is also less thermally conductive than other forms of steel, which makes it an excellent choice for louvers in hot places or for dampers that regularly handle warm air. In many cases, formed steel products can be built with type 316 stainless steel for added resilience.
Stainless steel louvers and dampers will be among the toughest units in your HVAC system. They will also be heavier than galvanized steel and extruded aluminum assemblies. These units will require extra support.
The Big Three and Your HVAC System
The big three metals – extruded aluminum, galvanized steel, and stainless steel – are used to build louvers and dampers for many applications. Heavier materials, like rolled steel, are used for heavy-duty applications such as industrial dampers and FEMA-approved louvers. You have options when it comes to louvers and dampers. It's important to understand those options.
MCDLG is Here to Help!
Need some help? Do you have a specific question about your current job? Or do you need a head start on your next project? Talk to MCDLG! We can bring our 50+ years of experience to the table. We are here to help you.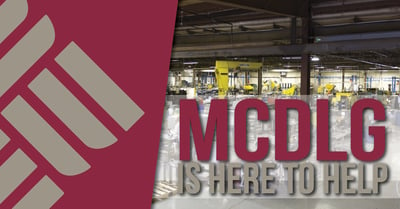 From continuing education to equipment considerations, all the way to providing top-quality finished products, and to post-sales support. We assist our customers every step of the way. Interested? Read our article on all the ways we can help you: MCDLG is Here to Help!
Need help right away? Contact MCDLG today. We are ready to help you.