In this Condenser, we discuss the vertical lines created by mullions and how you can hide them. Learn the difference between visible, recessed, and hidden mullions in this condensed Newsstand article!
When two louver panels are connected, their combined jambs create a visible mullion. Mullions create vertical dividing lines between louver panels, interrupting the horizontal lines created by the louver's blades. Typically, a single louver panel will sit inside a ventilation opening. However, you can also connect multiple louver panels together into an assembly.
You can install multi-panel assemblies along the envelope to enhance its aesthetic features or use them to create a perimeter around a secluded area. You may need a multi-panel assembly to cover a large intake opening, to protect the interior space from rain. Each connected louver panel will create a vertical mullion.
Hidden mullions are a great way to maintain uninterrupted horizontal lines across the louver's face. Use this option to add style to your building's envelope.
Imagine rectangles inside of a square. This is what a multi-panel assembly will look like with visible mullions. Mullions will create thick vertical lines between each panel. With visible mullions, each louver panel will stand out in the full assembly. You may not want these vertical lines in your louver assembly. For many stationary louvers, you have options for concealing mullions.
You may choose to recess the jambs behind the blades or conceal it completely. To conceal the mullion, manufacturers attach vertical blade supports (VBS) where the two louvers would connect. The VBS will act as a jamb on the back of the louver, supporting the blades on the mullion end, but without creating a mullion. Recessed mullions will use a VBS with an angle piece extruded towards the face of the louver. This angle piece provides additional support for the blades but will create a small space between the blades. The hidden mullion uses a standard VBS, with no angle piece, at the point where the two louvers meet. This option is commonly referred to as "continuous line", because the blade profile is continuous from jamb to jamb.
Your louver may require the additional support of a recessed mullion to maintain the integrity of the louver. Your louvers may be high up on the building, or they may be subjected to high winds or severe weather. You will need to consult the specifications of the project to decide whether the louver will need this support in place. If there are no such requirements, a fully hidden mullion will be the best option for concealing the connection between louver panels.
From afar, both mullion types will create an uninterrupted blade profile from panel to panel. However, at a closer view, the recessed mullion will be visible before the concealed mullion. If you don't need the extra support, choose a concealed mullion to keep those horizontal lines of the louvers' blades.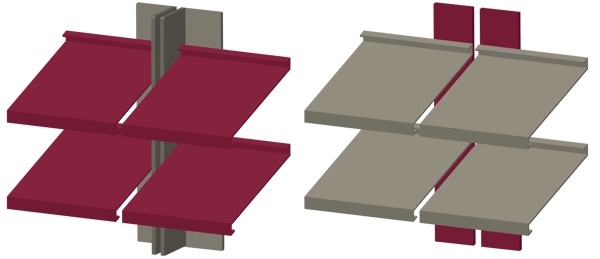 From left to right: a recessed mullion and a concealed mullion. The recessed mullion uses a vertical blade support with an extra angle piece between the blades.
Your options for mullions will depend on the louver and its application. All louvers will have sizing limitation for individual panels and there will be other considerations to take into account for multi-panel assemblies. Certain louver applications will require a standard, fully visible mullion. Consult the manufacturer for sizing and any structural limitations before making your decision. If you want uninterrupted horizontal lines between panels, consider choosing a recessed or hidden mullion for the assembly.
Are you looking for ways to hide mullions on your louvers? Or are mullions not a concern for your project? Share your thoughts in the Comments section. We want to hear from you!
MCDLG & Continuing Education
MCDLG offers free self-paced courses online through AEC Daily.
Our louver course, An Introduction to Louvers, goes over all of the basic stats, terms, and principles involved in choosing louvers for any application.
This course provides continuing education credits for a variety of institutions, including AIA's LIUs. Learn the basics of louvers and earn credit at your own pace. Visit the MCDLG course page on AECDaily.com today!
Do you have a question on something we haven't covered here? Or maybe you need help from industry experts? MCDLG can help. Contact us by clicking on the button below.