In this Condenser article, we discuss the free area between louver and damper blades. Free area is important. Learn how it affects air performance.

There is a space between your louver and damper blades. A space where air can pass through your louver and into your HVAC system. A space where unwanted elements can infiltrate your duct work, like rainwater, wind-borne debris, or dust and sand.

This space is free area. And it's one of the most important factors to consider when designing louvers and dampers.

To be more specific, a louver's free area is:

the free space between the louver's head and its highest blade.
the free space between each louver blade
the free space between the lowest louver blade and its sill.
Free area affects how your louver performs in the field. The space between your blades will vary based on the size of your louver and the shape of its blades. You should always aim for the highest possible free area, but you will frequently need to strike a balance with other factors.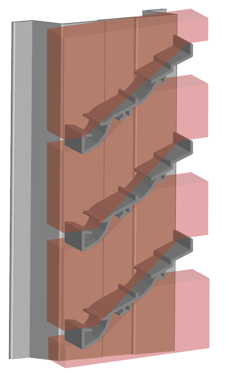 This illustration highlights the free space of a stationary louver. This spacing is typically called the louver's free area.
Your louver's free area will help determine its pressure drop and its beginning point of water penetration. A louver with a high free area will typically have a lower pressure drop and a lower point of water penetration.
Low pressure drop is good for air flow; air can pass through the louver with little resistance. However, a lower point of water penetration point means rain will more easily infiltrate your louver.
For dampers, free area will be the amount of space between the blades in their fully open position.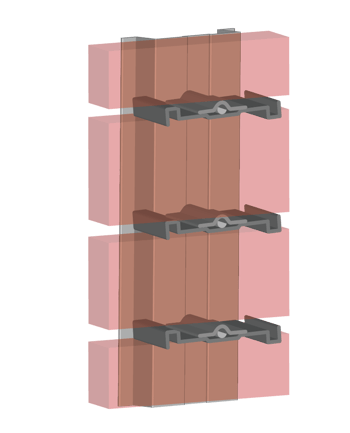 Free area refers to the areas where air gets through. For dampers, this area is calculated with the blades fully open.
Dampers are installed inside ductwork and don't have to worry about water penetration. Pressure drop and air leakage will be the important factors to consider. You should focus on achieving the highest possible free area with the least amount of air leakage. Striking this balance will achieve the best possible air performance.
The trick is understanding where your louvers and dampers will go and what purpose they will serve. Maybe your louver can get away with a smaller free area, if it means having a higher point of water penetration. You'll want to strike the best possible balance. And that balance starts with the space between the blades, the free area.
Free area is important for air performance. Can you think of any situations where less free area is better? Or is it always good to have more free area? Discuss your thoughts in the Comments section below. Let's chat about free area!
MCDLG & Continuing Education
Want to know more? MCDLG offers free self-paced courses on louvers, air control dampers, and life safety dampers.

Our continuing education courses provide CE credits for a variety of institutions, including ASHRAE's PDUs. Learn the basics of control dampers and earn credit, at your own pace. Visit the MCDLG Campus Portal today!
Do you have a question on something we haven't covered here? Or maybe you need help from industry experts? MCDLG can help. Contact us by clicking on the button below.